Festival System  #7.1
We can supply systems of all sizes for outdoor festivals,
dance parties, cultural events and bands.
$500 for JBL MRX passive speakers and QSC 7 amps.
System shown has 2x 18" subs, 2x 12" mids and horns, 
3,000 watts RMS.
To add mics, mixer and monitors, and more, see Individual Items.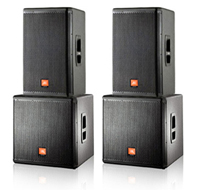 Includes delivery set-up, sound check and collect in Auckland.
Get a quote here, or check out the links below to see some recent events.

  Indian Festival

  Franklin Cultural Festival

  Micheal Park School Fair
Equipment: We use a range of pro audio gear including JBL, Proel and Bose speakers, and QSC amps, Shure mics, Presonus, Mackie and Yamaha mixers.
Extras: We can supply a PA system to any size to suit your event with complete front of house systems with full foldback, cordless mics, data projectors and screens, lighting, staging, marquees and power generators, and technical crew.