Lecterns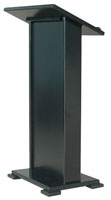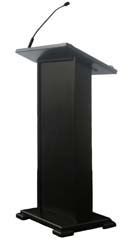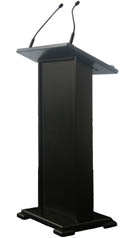 Professional corporate-style satin-black lecterns for formal public speaking.
$140
(gst inclusive)
Plain Lectern, no mic or speakers.
Price includes free delivery & collect in

Auckland metro*

.

$100 only when hired with one of our sound systems.
Front panel is 440mm wide x 970mm high to place signage.
Weight: 21kg or 24kg in freight-ready road bag.
Dimensions: 
Height is 1120mm to highest point.
$40    

Single goseneck microphone; Shure or Audio Technica.
$60   

Double
gooseneck mics
.

$80
Riser - (stage/platform, shown below) 1m x 1m x 200mm.
         
– includes a black skirt to cover base structure.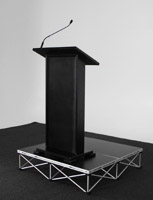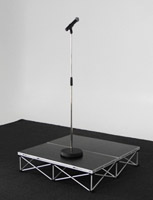 Email for a quote here info@soundworks.co.nz

Our Lectern Systems have been used by celebrities, presenters, academics, Prime Ministers past and present, numerous MPs and three Auckland Mayors.
[Other spellings and terminology:
lecturn, lictern, licturn, podium, pulpit, lecture stand.]