Ezy Sound System

A new high quality 400 watt active 10" speaker (the amp is built-in) on a lightweight stand.
A professional vocal microphone and stand, plus a cable for your iPod, laptop or phone.
This is a very good value purchase option. $895.00 gst inclusive.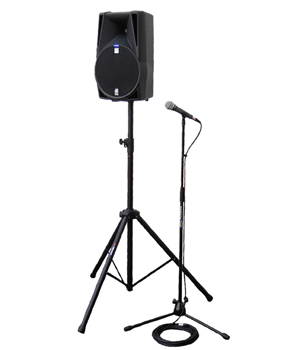 Equipment: The equipment will be whichever supplier at the time of purchase is offering us the best deals.
Definitely one of the upper mid-range quality brands like dBTech, Proel or Samson or Mackie. 
Three cables included; IEC power cable, mic cable, mini jack 'aux' cable.
FAQs
1. Can I use a microphone and iPod at the same time?
Yes, the mic and iPod (or laptop/smartphone) can both be plugged in and used at the same time.
2. Is it a cordless mic?
No, but it is on a long 7.5 metre cable, it plugs into the back of the speaker.
3. Is the speaker portable?
The speaker system is lightweight but it's not battery powered, it needs to be plugged into a regular mains power.
4. Do I need to hire an amp or mixer as well?
No, there is no separate mixer or amp, the amp is built-in and the master volume is on the back.