Lecterns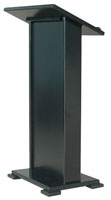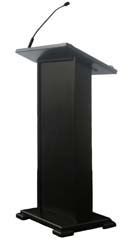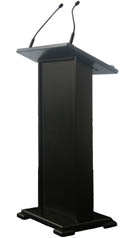 Professional corporate style lecterns for public speaking, seminars, business and government presentations.
$120

Plain Lectern, no mic or speakers.
Price includes free delivery & collect in Auckland*.

Dimensions:
Height is 1120mm to highest point, 950cm lowest point of the sloped top.
Front panel is 440mm wide x 970mm high.
Weight: 21kg or 24kg in freight-ready road bag.
$40

Gooseneck Mic - Shure
MX412/WL185
$60

Double
Gooseneck Mics
(recommended for corporate)
.

$80
Riser - (stage/platform, shown below) 1m x 1.5m x 300mm

.
Get a Quote - send an email about your event info@soundworks.co.nz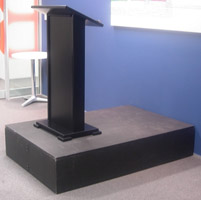 Our Lectern Systems have been used Prime Ministers past and present, numerous MPs and recently
by John Banks and Len Brown.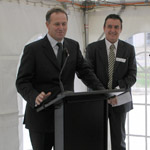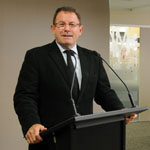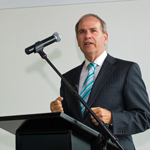 We also sell new lecterns from NZ$849.00

inclusive
Email us for a Fact Sheet and Rate Card:
lecterns@soundworks.co.nz

Specifications: Standard colour is low sheen black but available in any colour by request.
Recent sales to: Ministry of Defence, Netherlands Embassy, Japanese Embassy, Auckland Museum, Botanical Gardens, Britomart Valet Car Park, AUT, Media Design School, CBRE Real Estate Auctioneers, Millennium Hotel Rotorua and Ministry of Commerce Wellington.
[Other spellings and terminology:
lecturn, lictern, licturn, podium, pulpit, lecture stand.]