Go Anywhere System #3.0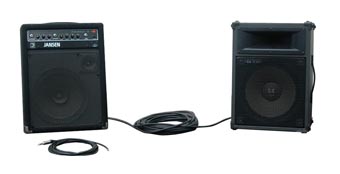 No mains power required –
for outdoor ceremonies
– battery-powered double speaker system – lasts 3 hours at full continuous use, longer on stand-by & intermittent use, holds a full charge for 3 days.
Two speakers give a full sound outdoors and enable people at the back to hear.
Play music from your iPod, laptop or Smartphone.

$180
Includes delivery, set-up, sound check & collect in Auckland*.

$140
Pick up and return to our Ellerslie depot - weekend hire.
Suggestion: At an outdoor wedding ceremony everyone wants to hear the celebrant and the vows without feedback or drop-out. Some sound hire companies may be cheaper and say do-it-youself'. They will hire you a wheelie speaker and a bunch of wires – but for a one-shot event will you get it right? Microphones are a tricky business – the volume and the placement of the speakers can make a big difference.
We prefer to set up these systems, although, if this is not possible we will fully demo the equipment at our depot before you take it away.
Get a Quote – email and describe your event info@soundworks.co.nz
Microphone Options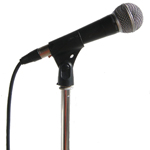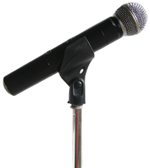 $30 (left) Omnidirectional mic & stand. Shure SM63
$30 (2nd left) Regular mic & stand. Shure SM58
$90 (3rd left) Cordless mic. Shure PGX & SM58
$90 (right) Clip-on lapel mic. Shure PGX & WL183.
$20 iPod (loaded with any Tunes) or a CD Walkman.
$20 4 channel mini mixer - battery powered, when using extra mics.

"The sound system was superb – all good and easy with you setting up, thanks. Cheers"
Phil Holden - Brick Bay, Warkworth. See ceremony and reception.

Equipment
We recommend the speakers are placed on the ground to be less intrusive and set apart about 15 metres with one speaker at the back so all the guests can hear.
Specifications
Jansen Entertainer 30, a 12 volt amp and speaker unit with stand with extension speaker. Runs 3 hours at full continuous use, longer on stand-by & intermitant use, holds a full charge for 3 days. Separate volume controls for music and microphone inputs.
(*Free delivery within our 10km Auckland perimeter – see map)